SimMan ALS
SimMan® ALS provides a mobile, durable solution that will meet the training needs of pre-hospital and in-hospital emergency care providers - from basic assessment to advanced life-support skills.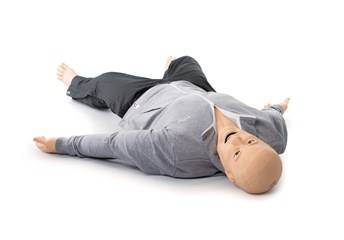 Build competencies and prepare for real-life emergencies
From pre-hospital, on scene assessment and management to definitive care in a hospital, SimMan ALS can fulfil the unique training requirements of emergency healthcare providers.
SimMan ALS is designed to strengthen skills in:
Airway management
Breathing assessment
Palpation and auscultation
Fluid resuscitation
ECG interpretation
Defibrillation
Ultrasound assessment and diagnosis
SimMan ALS can be used for the complete training of the American Heart Association (AHA) and European Resuscitation Council (ERC) Advanced Cardiac Life Support (ACLS) Course as well as a wide range of skills from basic assessment to critical care.
Making In situ Simulation Easier
Realistic, in situ simulation has been found to have a positive impact on learners' reactions, changes in safety attitudes, organisational performance and teamwork.
SimMan ALS has a mobile, durable, and self-contained design allowing training to take place in clinically realistic environments. Used with SimPad PLUS or a LLEAP PC, SimMan ALS can be operated wirelessly for "on the move" simulation.
Expand training opportunities according to your training needs
Pairing SimMan ALS with optional, complementary products can help make the simulation more clinically relevant to a wide range of healthcare disciplines. SimMan ALS allows you to integrate the latest technologies into your training programs when needed.


Prepared for ultrasound diagnostics training

SonoSim® technology has been integrated into the SimMan ALS chest/abdomen skin. This makes it easy to include diagnostic ultrasound featuring real ultrasound cases with pathological findings into full-scale simulations.

Laerdal-SonoSim Ultrasound Solution is only available for LLEAP PC operation. An additional purchase is required for SonoSim system and the patient cases and scenarios.



Prepared for enhanced defibrillation training

Pairing ShockLink with SimMan ALS enables the use of a live defibrillator with training pads. Training events such as time spent administering CPR, to placing the pads correctly and delivering a shock with minimal interruptions will automatically be captured in the SimPad PLUS or LLEAP data log for assessment and debrief.

An additional purchase of a ShockLink would be required.



Simulated patient monitoring

Graphical monitoring capabilities will enhance clinical realism and challenge critical thinking skills.

SimPad PLUS monitoring parameters are limited to Heart Rate, SpO2, Blood Pressure,
Respiratory Rate, Temperature, ECG, and CO2. LLEAP PC patient monitoring offers additional parameters as well as multi-media, labs and x-rays display capabilities.



Use your own clinical monitor with VitalsBridge

Bridge the gap between SimMan ALS and available clinical patient monitors.

VitalsBridge is only available during LLEAP PC operation. An additional purchase is required for the VitalsBridge unit and Services.
Useful docs about the product
Relative Links
Compare Similar Products

Relative Products
*ShockLink allows you to connect live defibrillators to SimMan ALS, creating more realistic BLS and defibrillation training. Sold separately
Product Number:
235-20033 SimMan ALS
400-09233 &nbspTablet-PC (IE) Instructor - Pat.Monitor
204-30133 &nbspSimpad PLUS LEAP (IE)
Consumables:
212-09450 Thigh IM Pad SimMan 3G
212-09750 Tape; L-Trauma IM Skin w/Pad Thigh Mystic
212-15250 Tibial IO Pad
212-15450 Tibial IO Tubing SimMan 3G
212-15550 Tibial Leg Band SimMan 3G
212-21050 Neck Skin Kit, SimMan 3G or Essential
212-21150 SimMan 3G Crico Tape
212-23150 IV Filter
212-24150 Pneumathorax
212-24250 Pleura, chest drain
212-24550 Lung Compliance
212-24650 Sternal IO Pad SimMan 3G
212-25150 Insertion Modules Pad 6 cm
212-25150 Insertion Modules Pad 11 cm
212-26050 Skin, leg left
212-26250 Skin, leg left Tibial IO SimMan 3G
250-21050 Airway Lubricant 45 ml
Accesories:
05-10100 Zoll Electrode Adapter
185-50050 Training Adapter QUIK-COMBO
200-30533 AC Adapter-Power Cord IE
200-30950 SimPad Headset
212-07150 Carry Case, Rugged
212-07450 SimMan 3G Bleeding Modules
212-29650 Headset and Mic with USB
270-00250 IV bag Transfer Set with Tubing
400-96050 USB HD Web Cam