ShockLink™
ShockLink™ is a compact defibrillation training tool for standardized CPR-D training that enables users to adapt their own AED or advanced defibrillator for use as a training tool in a realistic and controlled environment. ShockLink™ allows you to use adhesive training pads on your CPR manikins but also generates multiple shockable heart rhythms that are the foundation for a solid and efficient CPR-D training program.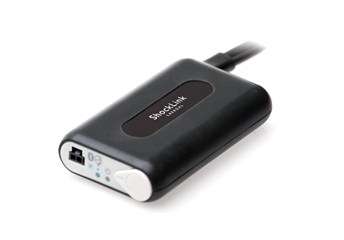 Efficient and cost-effective defibrillation training
Early defibrillation is a key step in the Chain of Survival. High-performance resuscitation teams responding to cardiac arrest events have to be prepared to deliver precise and effective defibrillation therapy in order to increase survival rates. Simulated CPR-D training can be a crucial part of a training environment that develops and enhances first responders' skills and proficiency.
ShockLink™ is a new defibrillation training tool by Laerdal that enhances the realism in the learning environment and that can easily integrate in a solid and efficient CPR-D training program. ShockLink™ can simulate multiple shockable heart rhythms that can be analyzed by a variety of AEDs and Advanced Defibrillators in the market. These rhythms are VT Slow, VT Fast, SVT, VF, PEA, Asystole, and Bradycardia.
ShockLink™ connects a variety of defibrillators to the majority of current CPR manikins or simulators in the market, providing a comprehensive solution for realistic and standardized training. With this new device, you no longer need to purchase a specific training model for your AED or defibrillator or a new AED manikin, which reduces the cost of implementing live defibrillation training.
Useful docs about the product
Product Number:
185-10050 ShockLink System
Consumables:
198-80150 ShockLink Training Pads
198-80450 Pediatric Training Pads Multi
Accesories:
185-50050 Physio-Control Quik_Combo Connector
185-50350 CorpulsDefibrillator Connector
185-50450 Zoll Defibrillator Connector
Useful Video: