SimNewB™
SimNewB has been designed by Laerdal with the American Academy of Pediatrics to meet the training requirements of neonatal emergency medicine and resuscitation courses. With realistic newborn traits and lifelike clinical feedback, SimNewB is ideal for training for the specific needs of neonates.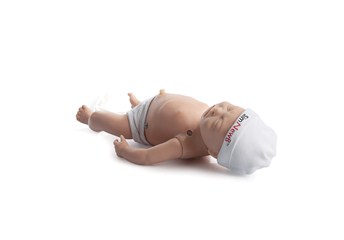 Treating compromised newborns demands the best training
SimNewB has been designed to be easily integrated into all neonatal clinical training curricula. An innovative user interface and scenario design allows instructors to control the simulator's responses.
Realistic traits and lifelike clinical feedback
SimNewB allows learners to practice a broad range of neonatal skills within a realistic simulation environment. The airway has been designed to allow for training in all aspects of newborn airway management, including the use of Positive-Pressure Airway devices and the placement of ET tubes and LMAs. SimNewB also features:
Realistic Anatomy - measuring 52.5cm (21") and weighing 3.17kg (7lbs)
Patent Umbilicus with life-like pulse that can be assessed, cut and catheterised for intravenous therapy
Intraosseous access in both legs
Lung compliance can be altered by an instructor
Realistic chest rise can be adapted to be absent or normal, with breathing rates up to 100 breaths per minute
Operation and Debriefing Options
Whether using SimPad PLUS or a LLEAP PC to run your simulation, the software is easy and efficient to use for scenario based training. The intuitive operating platforms provide flexible management of patient parameters, integrated data and video capture, as well as simulated patient monitoring capabilities. Choose the operating systems that works best for your training needs.
| | |
| --- | --- |
| Simpad Plus | LLEAP Instructor |
| | |
Useful docs about the product
Relative Links
Compare Similar Products

Relative Products
Product Number:
226-05050 SimNewB
Accesories:
210-30250 Link Box SimPad
210-01650 Compressor 110V-240V
212-29650 Headset and Mic with USB
220-03550 SNB CONGENITAL ANOMALY STD
400-10233 Laptop Instructor - Patient Monitor
400-29333 AIO Patient Monitor
400-96050 Usb HD Web Cam