SimJuniorTM
SimJunior™ is an interactive pediatric simulator, designed by Laerdal with the American Academy of Pediatrics to meet the education and training needs of healthcare providers. SimJunior represents a 6-year-old boy that simulates a wide range of conditions from a healthy, talking child to an unresponsive, critical patient with no vital signs. SimJunior allows learners to focus on a broad range of pediatric skills in order to gain exposure and practical experience of life-threatening pediatric problems. Available with a range of Technical and Educational Services, as well as validated simulation content, SimJunior presents a complete simulation solution for your pediatric training programs.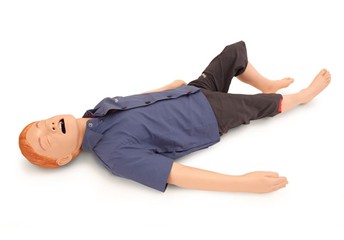 Whether you serve in a hospital or in EMS, providing medical care to a child tests your skills and abilities. Medical professionals need the same level of confidence and experience in treating children that they have for treating adults. Pediatric simulation training utilizing SimJunior paired with scenarios developed by industry leaders such as the American Academy of Pediatrics (AAP) and the National League for Nursing (NLN) provides a validated education and training experience that can maximize pediatric healthcare skills.
SimJunior Benefits:
SimJunior is designed to be easily integrated into all pediatric training programs.
Available in Standard and Advanced configurations. The SimJunior scalable format allows instructors to tailor the training to their needs.
Built with the quality you've come to expect from Laerdal, SimJunior is developed to be durable and reliable- giving you the ability to train where you practice medicine- in real environments with real results.
Proven software, modeled from the ALS Simulator, allows flexible management of all patient parameters. Using the scenario editor, instructors can create basic to advanced scenarios and the use of Trends and Handlers enables multiple physiological changes in the simulation.
Automatic debriefing based on the event log synchronized with video pictures provides immediate, detailed feedback on performance and optimizes the simulation as an educational tool (Video with Advanced version only).
Pre-programmed scenarios provide standardized training while customizable scenarios and real-time instructor control allows adaptation to meet individual student's needs.
** Visit Simstore® to learn how you can fully optimize your learning experience.
Useful docs about the product
Relative Links
Compare Similar Products

Relative Products
Product Number:
232-000xx SimJunior
Accesories:
277-00001 Kid Trauma Wounds
400-09233 Tablet Operator PC or Patient Monitor
400-10233 Laptop Instructor - Patient Monitor
400-96050 Usb HD Web Cam