Sim-Ortho
Our VR training simulator is a surgical training platform that enables the use of simulation to teach, train and test residents for open surgery procedures. As the world's first of its kind, it offers unique possibilities to expand medical education of orthopedic surgery in a novel way.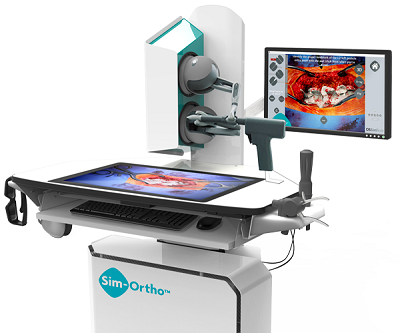 The Sim-Ortho offers a level of unparalleled precision in a highly realistic 3D environment, as well as a life like touch feedback technology known as haptic technology, which replicates the applied force and resistance feedback felt by surgeons when they manipulate tools to cut and drill through bones and tissues.
Benefit at a glance:
Develop a wide variety of technical hands-on practice and decision making skills from basic tool handling to the most complex procedures.
A true sensation of touch with real life haptic feedback .
Train and learn on a wide variety of real clinical cases .
Customize learning paths, designed and adapted for each level of training .
An objective and measurable evaluation for each residents .
Package Modules: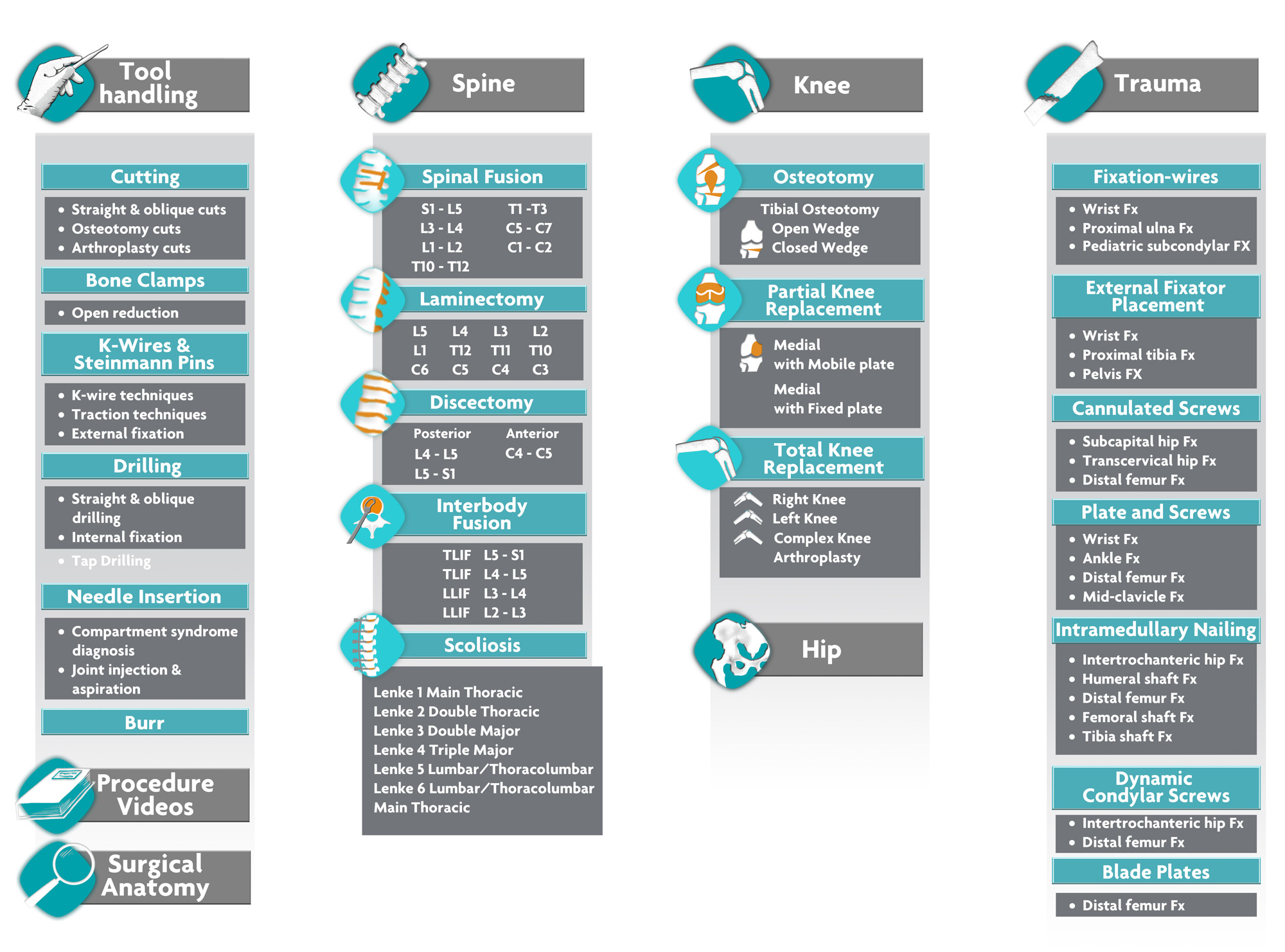 Adnantages:
The Sim-Ortho training simulator enables students to practice different orthopedic surgeries that they would normally not necessarily practice often during their residency years.
Unlike in an OR where a mistake could injure the patient, training on the simulator allows residents to make mistakes and learn without consequences.
The Sim-Ortho surgical simulator helps residents reach a predetermined level of high proficiency and allow them to go into the OR and fine-tune their skills starting from a higher level.
We provide training (that currently does not exist in any form of virtual reality at all) in procedures that carry significant morbidity, risks of patient complications and poor functional outcomes.
Allow handling and manipulation of multiple orthopedic tools in a highly realistic 3D environment mimicking the sound, force, and imaging of real-life actions in surgery.
Use its patented technology of real-time haptic feed-back (applied force and resistance) to provide a real "hands-on" feeling of handheld tools such as saws, screwdrivers, rongeurs or drills.
Develop the cognitive process of surgery where the trainee is involved in decision-making to optimize the outcomes of the procedures
Cost Saving
provides objective feedback on each tasks performed by the trainee. After each completed procedure, the user receives a feedback based on metrics developed with experts.
Useful docs about the product
Sim Ortho H/W and S/W components
Height adjustable mobile cart
Two haptic devices providing:

6-DoF motion tracking
5-DoF force feedback

Mouse, keyboard, earphones, 3D glasses and Infrared IR emitter
Height adjustable mobile cart
Generic mock-up surgical tools:

Screwdriver and Kerrison handles (Spine)
Pliers drill handle (Knee)

Screens: 3D flat screen and touchscreen
One quad-core PC
Microsoft Windows 10 operating system
The Knee module and the Spine module
Geomatic Touch Setup
Geomatic Touch Diagnostic
Sim Ortho Video
Sim Ortho Pictures