SimBaby™
Treating compromised infants demands realistic team training to ensure healthcare providers are equipped to respond, diagnose and treat critically ill infants in an emergency. The SimBaby™ full-scale simulator has realistic anatomy and clinical functionality to help learners practice and perfect their skills through hands-on experience ensuring best possible outcomes for the youngest of patients.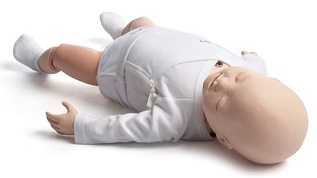 Effective care and assessment
Infant assessment and care can pose many challenges to the healthcare professional. During an infants first year their physiological development dramatically changes. Simulation in Education can prepare students and professionals to continuously improve basic and advanced clinical skills necessary to ensure the health and well-being of our smallest patients.
Realistic training
SimBaby can help educators achieve the optimal training environment to ensure the best possible patient outcomes. By training in cross-functional teams, simulation scenarios can mirror real-life situations allowing the learner to experience those life and death situations before ever having to respond to a critically-ill patient.
Build competence
Patient outcomes are dependent on the competence of the healthcare professional. Performing real procedures such as defibrillation, chest tube insertion, and airway management, allows learners to practice core skills in a risk-free environment so that they are better prepared in emergency situations.
Realistic anatomy and clinical functionality for infant care
| | | |
| --- | --- | --- |
| Airway Management | Breathing | Circulation |
| | | |
| Training of all aspects of infant airway management including positive pressure ventilation, insertion of LMA's, and ET Tubes. The anatomy can be dramatically changed to represent conditions such as tongue edema, pharyngeal swelling, and laryngospasm. | SimBaby can simulate spontaneous breathing patterns with variations in depth and rate, and complications such as retractions and see-saw breathing. Critical conditions such as tension pneumothorax can be simulated and managed through needle thoracentesis, and chest tube insertion. During hypoxic conditions SimBaby will present cyanosis in the mouth region. | The blood pressure can be adjusted and measured manually by auscultation of Korotkoff sounds. Pulses can be assessed at the radial, brachial, and femoral pulse points |
| Defibrillation | Vascular Access | Anatomy |
| | | |
| SimBaby allows for live defibrillation, pacing, and synchronised cardioversion. | SimBaby has an IV arm and bilateral IO/IV legs, which can be connected to reservoirs to allow for volume infusion and blood sampling. | With lifelike traits such as a fontanel that can be adjusted to present as normal or bulging and torso motion to simulate seizure, SimBaby helps healthcare providers recognise and manage pediatric emergencies. |
Useful docs about the product
Relative Links
Compare Similar Products

Product Number:
245-02033 SimBaby (IE) Manikin + Linkbox
Accesories:
210-01650 Compressor 110V-240V
400-10233 Laptop Instructor - Patient Monitor
400-29333 AIO Patient Monitor
400-20250 Serial adaptor 10cm
400-20350 Ethernet Cable 10m
400-96050 Usb HD Web Cam
* (All above accesories with the manikin are our recommended Configuration)