SimMan 3G Trauma
SimMan 3G Trauma has been designed to train military and civilian emergency medical personnel in trauma situations, such as hemorrhage control. The durable configuration provides you with the flexibility to perform simulation based education in the environment of your choice, from the classroom to the battlefield.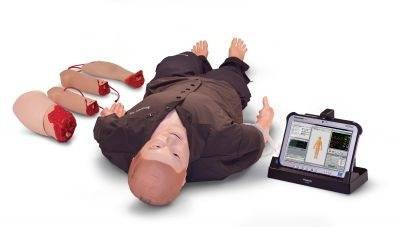 The training solution for military and civilian emergency services
We have tailored SimMan 3G for specialist use as a trauma patient simulator specifically designed for military and civilian emergency services.
SimMan 3G Trauma is well suited for training the rapid assessment of trauma emergencies. It will also simulate necessary interventions such as hemorrhage control and airway management.
Durable for use in real life situations
SimMan 3G Trauma has some essential features, such as amputated limbs and sternal IO access to provide optimal training for trauma emergency situations.
These features, along with the rugged PC, wireless configuration and carry case, make SimMan 3G Trauma the quality choice for realistic training in any environment – whether in a hospital, an ambulance or in a military combat environment.
| | |
| --- | --- |
| See it in action on the battlefield... | ...or used in an EMS training scenario |
Useful docs about the product
Relative Links
Compare Similar Products

Relative Products
Product Number:
219-02033 Laerdal SimMan 3G Trauma
400-09533 Rugged Instructor PC
400-09533 Rugged Patient Monitor
Accesories:
05-10000 Quik Combo Electrode
05-10100 Zoll Electrode Adapter
151-945006 Defib Training Cable HS
212-07150 Carry case Rugged
212-07450 SimMan 3G Bleeding Module
212-11955 ASL 5000 and ASL 5000 Lung Adapter
212-08950 Chest Skin SM 3G No ECG Punch, w/zip
212-29650 HeadSet and Mic with USB
400-09233 Tablet P/C instructor Patient Monitor
400-29333 "All in One" Panel P/C instructor PM
400-96050 USB HD Web Cam
Consumables:
212-15250 Tibial IO pad pack of 10
212-15450 Tibial IO Tubing SimMan 3G
212-15550 Tibial Leg band 5 pkg SimMan 3G
212-20050 Wound tape kit
212-21050 Neck Skin Kit
212-21150 SimMan 3G Crico Tape
212-23350 Vial kit
212-24150 Pneumathorax
212-24250 Pleura, Chest Drain
212-24350 Sternal IO unit pack of 4
212-24550 Lung Compliance
212-24650 Sternal IO pad 10 pkg
212-25250 Insertion Modules pad 11,5cm
212-25350 Inline filter blood
212-26250 Skin, Left Leg Tibial IO
250-21050 Airway Lubricant 45 ml
282100 Manual Defib. Adapters
30-00750 Blood Concentrate 4 oz