PROMPT Flex Birthing Simulator
Patient safety initiatives aimed at addressing the potential for adverse events and medical errors are being implemented in many labor and delivery departments.
PROMPT Flex is ideal for addressing high risk, low frequency events and reducing complications. The versatile and modular design provide the user with a comprehensive experience in all stages of birth and complexity. Suited for all learners in both professional education and healthcare providers.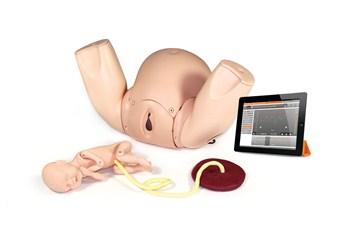 A flexible and robust training solution
PROMPT Flex offers a flexible system that integrates multiple training modules for a comprehensive and robust training experience built upon the successes of the previous PROMPT Birthing Simulator.
Combining anatomical accuracy and features, which include a cervix and birth canal, PROMPT Flex provides the ideal training solution for all skills relating to routine and difficult births.
Configure PROMPT Flex to your needs
Choose from either the Standard or Advanced PROMPT Flex before adding on additional modules, allowing you to extend the use for cervical assessment, performing caesarean section births and postpartum hemorrhage (PPH)
| PROMPT Flex - Standard | PROMPT Flex - Advanced |
| --- | --- |
| | |
| PROMPT Flex - Standard is an ideal training solution for all skills relating to routine and difficult deliveries, and can be used for both hybrid simulation and stand-alone skills proficiency. | PROMPT Flex - Advanced offers additional functionality, allowing multiple scenario training, monitoring and recording actions, including interventions made, and time to deliver the baby. Force monitoring provides visualization for proper delivery and for learners to see and feel appropriate force required with hands on experience and feedback. |
Useful docs about the product
Product Number:
379-10000 PROMPT FlexBirthing Simulator – Standard
380-10600 PROMPT Flex Birthing Simulator – Advanced
PROMPT Flex Standard and Advanced comparison
Standard
Advanced
Communication & team work skills

✓

✓

Normal birth

✓

✓

Breech

birth

✓

✓

Shoulder dystocia management

✓

✓

Assisted deliveries

(forceps & vacuum devices)

✓

✓

Delivery of placenta

✓

✓

Cord prolapse

✓

✓

Urinary catheter placement

✓

✓

IM injection pads

✓

✓

Force feedback of baby's head

✓

Recording of scenarios & force monitoring

✓
Accesories:
379-10200 Cervial Dilatation Eff.Mod Prompt Flex
379-10300 Caesarean Section Module Prompt Flex
379-11000 Lower Limbs - Prompt Flex
379-17000 Uterus Caesarean Module Prompt Flex STD
380-10100 PPH Module Prompt Flex