Premature Anne™ Task Trainer
Exceptional training makes all the difference
The first 10 minutes is critical for a preterm newborn. When complications arise, providers must be prepared to deliver quality care. Premature Anne Task Trainer is designed to prepare providers with realistic experiences to help save these tiniest of lives.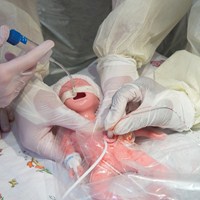 Product Benefits:
Realistically proportioned preterm infant .
Anatomically accurate airway designed to train airway management including the placement of an ET tube.
Realistic training experience supports delivery of AAP neonatal resuscitation.
The features of Premature Anne are aligned with the objectives of the NRP course curriculum.
Premature Anne is highly mobile for use in multiple clinical settings and in transport scenarios.
Product Features:
Anatomically accurate, realistic airway.
ET tube insertion.
Sellick Manoeuvre.
Positive Pressure Ventilation.
Right mainstem intubation.
Suctioning.
NG/OG tube insertion.
Gastric lavage and gavage capable.
Bilateral and unilateral chest rise and fall with mechanical ventilation.
Unilateral chest movement (right mainstem intubation) with mechanical ventilation.
Realistic compressions.
Patent, cuttable umbilicus with venous and arterial access for bolus or infusion.
Simulated blood flashback upon cannulation of umbilical vein.
Peripheral IV access (dry ports only).
Auscultation of lung sounds during ventilation.
Useful docs about the product
Product Number:
290-00050 Premature Anne Task Trainer
290-00150 Premature Anne Task Trainer Twin Pack
Consumables:
240-00250 Simulated Umbilical Blood.
250-21050 Airway Lubricant (45ml)
377-18850 Lubricant (250ml)
Useful Video: