Premature Anne™
Premature Anne is a realistically proportioned 25-week preterm manikin developed in collaboration with the American Academy of Pediatrics (AAP). Premature Anne is designed to facilitate the training of healthcare professionals in the initiation of proper care and resuscitation of preterm infants.
Exceptional training makes all the difference
The first 10 minutes is critical for a preterm newborn. When complications arise, providers must be prepared to deliver quality care. Premature Anne Task Trainer is designed to prepare providers with realistic experiences to help save these tiniest of lives.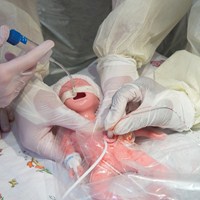 Product Benefits:
Realistically proportioned preterm infant .
Anatomically accurate airway designed to train airway management including the placement of an ET tube.
Realistic training experience supports delivery of AAP neonatal resuscitation.
The features of Premature Anne are aligned with the objectives of the NRP course curriculum.
Premature Anne is highly mobile for use in multiple clinical settings and in transport scenarios.
Product Features:
Anatomically accurate, realistic airway.
ET tube insertion.
Sellick Manoeuvre.
Positive Pressure Ventilation.
Right mainstem intubation.
Suctioning.
NG/OG tube insertion.
Gastric lavage and gavage capable.
Bilateral and unilateral chest rise and fall with mechanical ventilation.
Cyanosis (ONLY with SimPad Version)
Unilateral chest movement (right mainstem intubation) with mechanical ventilation.
Realistic compressions.
Patent, cuttable umbilicus with venous and arterial access for bolus or infusion.
Simulated blood flashback upon cannulation of umbilical vein.
Peripheral IV access (dry ports only).
Auscultation of lung sounds during ventilation.
Heart sounds (ONLY with SimPad Version) Vocal sounds (ONLY with SimPad Version)
Choose a configuration to meet your learning objectives
Premature Anne with SimPad PLUS
Premature Anne Task Trainer
Premature Anne, when paired with SimPad PLUS, helps place learners in scenarios that simulate real-life experiences. Training scenarios can be conducted in-situ to enhance and improve cross-functional team communication within the setting they will perform. These realistic simulations will help to strengthen the learner's ability to assess, diagnose and treat preterm infants as part of a team.
There are two configurations available to use Premature Anne with SimPad PLUS:
Premature Anne - Manikin Only
AAP Premature Anne Pack
When used as a task trainer, Premature Anne is designed to help a learner develop and gain competence through hands on training. Premature Anne Task Trainer is designed to strengthen skills in:

Airway management techniques
Delivering compressions
Vascular access (umbilicus)
Practice placement in dry pre-ported IV sites

Premature Anne Task Trainer is available as:
Premature Anne Task Trainer - Single Manikin
Premature Anne Task Trainer - Twin Pack
Useful docs about the product
Relative Links
Compare Similar Products

Product Number:
290-00050 Premature Anne Task Trainer
290-00150 Premature Anne Task Trainer Twin Pack
295-00050 Premature Anne Standard
295-55101 AAP Premature Anne Pack. 8 Scen. PA SimPad Plus
Consumables:
240-00250 Simulated Umbilical Blood.
250-21050 Airway Lubricant (45ml)
290-02060 UmbilicalCord, PremAnne set of 3
290-02065 Silicone Tape (2.5cmx5M)
377-18850 Lubricant (250ml)
Accesories:
400-09233 Tablet-PC (IE) Instructor - Pat.Monitor
400-10233 Laptop Instructor - Patient Monitor
Useful Video: