Pediatric Intubation Trainer
Anatomically accurate reproduction of a pediatric torso designed for teaching the differences in pediatric and adult anatomy for airway management procedures.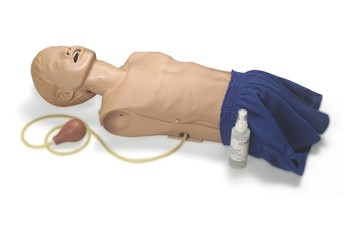 Product features:
Anatomically accurate airway allows sizing and insertion of various airway adjuncts: Oropharyngeal and nasopharyngeal airway insertion.
Endotracheal tube insertion and securing.
Bag valve mask ventilation.
Tracheal suctioning.
Manually generated carotid pulse.
Closed chest compressions.
Useful docs about the product
Relative Links
Compare Similar Products

Product Number:
255-00001 Paediatric Intubation Trainer
Consumables:
250-21050 Airway Lubricant (45 ml)