HeartSim® 200
The Heartsim 200 is a battery-powered ECG rhythm simulator designed to provide basic, modified, and pediatric rhythms with variable pulse rate and strength. This product offers all the necessary rhythms to conduct ACLS course in one compact, convenient unit.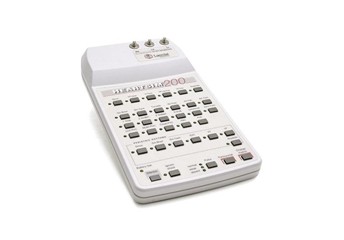 Product Features:
Offers a total of 30 cardiac rhythms.
17 modified rhythms including Torsade de Pointes.
7 pediatric rhythms.
Compatible with ALS Baby, ALS Basic, ALS Advanced, and Defib chest skin upgrades.
Special features including paroxysmal, ignore shock, and variable pulse strengths.
Heartsim 200 simulator comes standard with soft carry case.
Useful docs about the product
Relative Products
Product Number:
260010 HeartSim 200 Cardiac Rhythm Simulator
Accessories:
292021 Heartsim 200 link cable